"A week before I flew to Manila, before my final defense, I received a call from my adviser. She told me 'Your paper won't do. We have to reschedule.' Imagine my reaction. My three-year journey in thesis writing taught me that it won't be easy. It will take certain turns. There will be bumps. But it's important who I journey with. For me, it was with my adviser." (Arayana Fernando Kunting, 2021)
True enough, the relationship with your advisor is one of the most crucial aspects when it comes to academic success. Finding the right mentor and learning how to work effectively with them can be just the boost you need in finishing your theses.
The third installment of the Research Journeys, entitled "Building Research Relationships and Working with your Supervisor", was hosted via Zoom last April 29, 2021 to talk about the roles of an advisor. Two UPOU alumni and one faculty from the Faculty of Education (Fed) shared their own experiences in maintaining a good relationship with their advisors throughout their research journeys and even beyond.
Setting expectations
Your supervisors are there to provide you with appropriate advice and guidance – but they are not there to tell what you should be doing at every step of the way. They will likely be there to mentor you and to keep you on track towards your goals.
But, sometimes, advisors are the ones who struggle to find the balance between leading the thesis and guiding the student to take their own path.
Mr. Arnie Dizon, an MSSE alumnus, shared his research journey through a series of comic strips.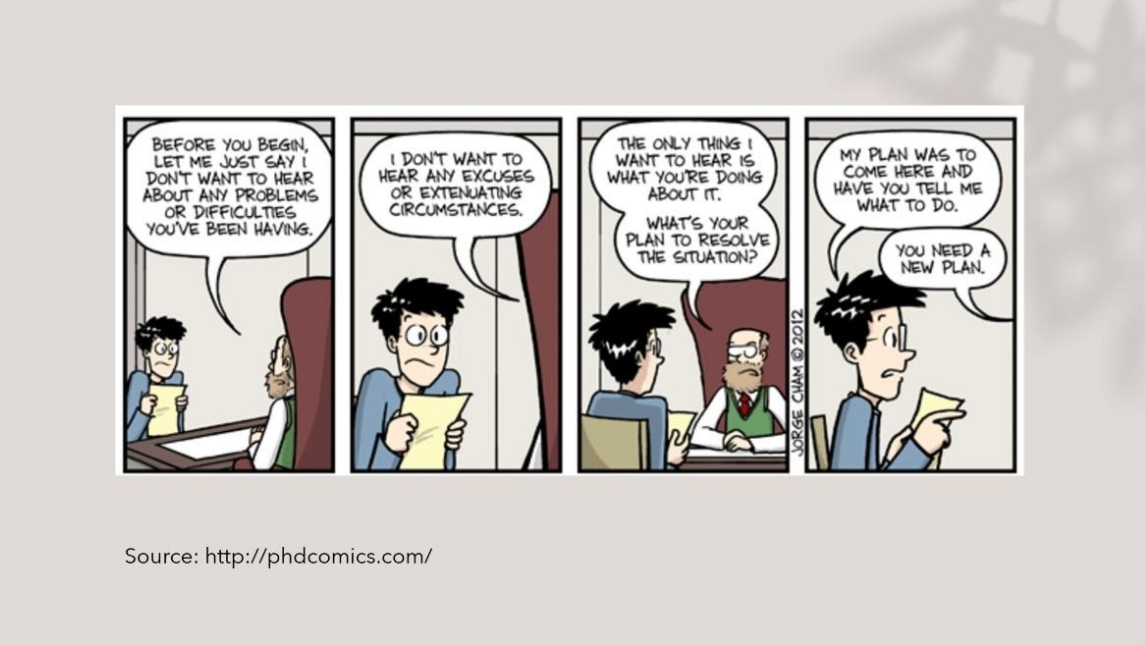 In this comic strip, he recounted a quote from his advisor,
"… for advisers, the difficulty lies in finding a balance between 'telling the students what to do' [that results in hijacking the student's thesis and turning it into the adviser's thesis instead] and nudging the students towards alternative paths and allowing them to determine which one to take or to come to a realization about his/her own path."
"The adviser-led approach is faster, more efficient, but will lead to a clean paper that the student would NOT be able to defend [because it reflects the ideas of the adviser]."
"The thesis must, among other things, a.) demonstrate the candidate's capability to pursue original research in the field of study based in a good understanding of the research techniques and concepts appropriate to the discipline; b.) consists of the candidate's own account of his/her research."
While advisors play a key role in supporting your success, every relationship is a two-way street. You also have to plan ahead and, at the same time, be realistic with your goals.
For Ms. Arayana Fernando Kunting, an MSSE alumna, she managed to do that by coming into terms with the idea of 'thesis as a process'. Despite the pressure on her to finish her MA for tenure purposes, she told herself that she cannot finish her thesis in one semester. In fact, it took her four years to finish her coursework and three years for her thesis writing (Teacher Educators' Perspectives on Multicultural Education in BSED Social Studies Program of Western Mindanao State University).
Based on Arayana's experience, there are things that are just out of your control. For someone who lives in Zamboanga City, connectivity and logistics issues are always in the equation. That, and juggling her workloads and scheduling with her work consumed all the time she had for writing. In the end, she said,
"You need to give way and be more accepting of things."
Even if that may slow-down the process of your thesis.
Meanwhile, Assistant Professor Aleta Villanueva also shared her doctoral dissertation journey.
"Reflecting on research relationships, I look into it as a form of collaboration."
In the doctoral dissertation, the expectation is that you are an independent researcher. You will be expected to show that you can plan and manage your work, develop and communicate your ideas, and deliver on time. Your research degree is very much down to you. The adviser only has a way of working with you, so you end up in equal footing as collaborators.
During her first doctoral study, Prof. Aleta recalled she had a hard time working with her adviser while also dealing with her own personal issues. She said,
"With my [new] adviser na-realize ko na mayroon pala akong talino. All this time akala ko there must be something wrong with me. Or it's possible that there could be something wrong with me, but it's okay. We embrace those flaws. Then you realize that there's another adviser out there that really fits with my kind of thinking, my kind of working. And she's actually impressed. [Sometimes I think] does she really think my work was okay?"
Advisors do not only provide guidance in our work, but they are also there to give reassurance and validation that you are doing well, especially in times of self-doubt.
Communicating consistently and openly
The importance of open communication with your PhD advisor cannot be overstated. Allow your advisor to give you suggestions in setting the direction for your research. Be willing to be guided and led — even if they tell you something difficult or that you may not want to hear.
The three speakers shared the same sentiments about being stubborn on their own work.
In Arayana's experience, her paper took a circle and even had to revise one chapter for 12 times before it was approved because she was adamant about what she wanted to do. It reached a point when she felt a surge of hopelessness and asked herself,
"It's been three years, may balak pa ba siyang patapusin ako?"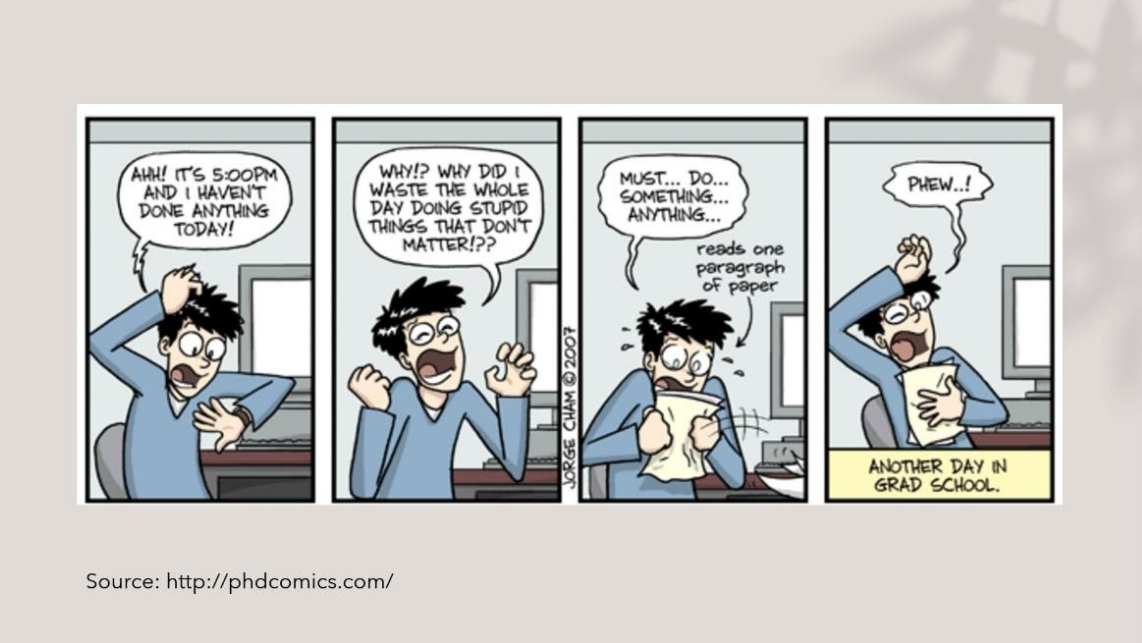 The comic strip, for Arnie, is relatable as he himself also experienced the stubbornness of not revising because he had worked long nights for his manuscript. He added,
"At first, nahihirapan tayong mag-revise kasi [we think] sa'kin to. Pinagpuyatan ko 'to."
For Prof. Aleta, most times, it was just a battle of wills. But in the end, since they have been working in their respective fields for so long, you should always listen to what they have to say.
In particular, your supervisors will refine your plans and ideas. This is the case for Arnie's thesis journey. From a very broad thesis topic and after carefully considering the feasibility of the study in terms of time and resources, he, together with his advisor, decided to focus on using one method. In the end, his thesis topic was: "Content analysis of Grade 8 world History of learning modules and teacher's guide".
It is important to remember that your supervisors' comments are based on experience and intended to be constructive. As an advisee, you also decide when to stop and listen, and when to assert certain things. If you are unsure why your supervisor is making a particular suggestion, feel free to ask them.
Taking advantage of other resources
Your adviser cannot be your only ally. Additional mentors can also give new and different perspectives.
Before finally publishing his thesis, Arnie took him almost 9 months to submit a complete draft of his thesis from introduction to methodology (Chapter 1 to 3). He even had to resubmit the following month, and the feedback he received was:
"The state of the draft is like a stack of notes. It lacks suppository tones…"
As suggested by his adviser, he started reading journal articles and observed how organized and clearly written the articles were. In that way, he was able to write an acceptable proposal that only needed minor revisions. He described the moment as , "Doon talaga nagkaroon ng liwanag. Kung noon ay dim 'yung ilaw, as time passes by, lumiliwanag siya. Nakikita [ko] na 'yung direksyon, 'yung patutunguhan ko [ng thesis]."
Aside from being able to write, you must also know when to engage other people in the journey.
In Prof. Aleta's experience, it was not just about relating with her advisor, but also working with the library and research support team. For her, they are the people to rely on, especially when it comes to technology.
Aside from the staff and other professional in the university, relationships are also important with your fellow researchers. Engaging in symposiums and immersing herself with the culture in the university were her way of learning from them. By observing certain practices, she can infuse it with UPOU when she came back.
Learning a new skill
Lastly, your supervisors not only provide advice on the ideas that you develop and to give you feedback on your progress. They also develop your competencies as a researcher.
In Arayana's experience, even though it took her three years in finishing her thesis, aside from learning that research is a process, she became skilled in writing her own research. In fact, she even brought her learnings in her PhD journey. She said,
"When I entered my PhD program, I remembered all the lessons that I learned from her, the discipline, the technical knowledge that she shared while I was writing."
The same goes for Arnie and Prof. Aleta.
It was clear from the comments on his first draft that technical writing was not his expertise. Arnie even recalled how his adviser sent him a book on "How to Write a Dissertation Proposal". Remembering it, he still laughs about it, but that book brought his thesis "Content Analysis of K to 12 World History Teaching Guides in terms of Teaching Approaches" to PNU The Normal Lights publication. You can read it here (link).
Aside from the experience and improving his writing skill, he mastered the method of content analysis. Later on his recent work on "Content Analysis of the K to12 Junior High School Geography Curriculum in the Philippines" was also published in International Research in Geographic and Environmental Education Journal (link).
Even Prof. Aleta, a seasoned researcher, did not hesitate to seek help from a higher degree research learning adviser (HDR-LA) and an "English Angel" to improve her writing technique. She added,
"Talagang binantayan nila [ang] academic writing ko. In the process, I actually learned tips and ways to maybe help a fellow researcher or an advisee, later on, when it comes to academic writing."
A research degree is not just about the development of your thesis – it is also about the development of you as a researcher. Your supervisors will have a particular interest in making sure that you develop the skills you will need to complete your research degree, but it is important that you also look to develop your transferable skills.
Overall, after reflecting on their research journeys, they realized that the adviser-advisee relationship is the most important. Like any working relationship, the relationship that you have with your supervisors will take time to develop and require effort on both sides to maintain.
Your supervisors will have several overlapping roles – over the course of your research journey, they will act as your mentor, trainer, supporter, critic, and fellow researcher. They may come in all forms with different approaches and styles, , but if you find the right person to build that relationship with, it will improve your chances of completing your research degree successfully and something worth remembering.
In the end,
"An adviser will guide and motivate you, sometimes demand and pressure, but will be happy to see you succeed." (Kunting,2021)
Written by ZYCAluag